A grand opening is a symbolic and exciting milestone for any company. It gives businesses a chance to strengthen existing relationships and spark new ones. What's more, it provides employees an opportunity to take part in their company's success. 
Whether your business has just relocated or opened a new store, it's essential to generate enthusiasm and spread the word. Our experienced team is known for helping to create impactful grand openings across Ann Arbor and the surrounding areas. We understand that there is a lot that goes into planning a grand opening, and we are here to make it a smooth process.
Here are some of the top things to help prepare for your grand opening:
1. Thanks for "Popping By"
Invite people to pop over to say hello and see your new digs. Here are just a few ideas if you're envisioning a casual, budget-friendly gathering:
Food: To fit the "popping by" theme, have a popcorn station! Not only does this fit the name of the event, but it also gives your guests something to snack on that is handheld.
Beverages: Everyone loves a cold glass of lemonade or a fun display of infused waters. If you're looking to take it up a notch, opt for the champagne. 
Decor: You don't have to go full-blown circus theme to have popcorn, but a canopy of balloons, string lights or a few marquee letters will certainly draw attention and build excitement. 
Activities: Add some fun by hiring a magician, caricaturist or fortune teller to roam around the crowd. Don't forget to document the event with an interactive photo booth and props. 
2. Let's Brunch
Brunch is quickly becoming the most popular meal of the day! It would even make for a perfect meal and theme at the grand opening of a revamped location. 
Food: One of our favorite brunch recommendations that will surely give your grand opening event attendees a boost is our Breakfast at Tiffany's, featuring items like: 
Crustless Quiche Lorraine Bites:

Eggs, cream, bacon, onion and Gruyère

Smoked Salmon Frittata:

Eggs, smoked salmon, scallions, tomatoes, cream cheese, dill and Havarti

Leek and Potato Cakes:

Scallions and sour cream

Mini Baked Goods Assortment:

Mini muffin assortment, breakfast scones, mini Danish pastries and chocolate pecan coffee cake

Vanilla Yogurt Parfaits:

Pineapple, blueberries, strawberries, cinnamon and granola
For more fun options for your grand opening, we have an entire menu full of mouthwatering breakfast and brunch displays.
Beverages: Fresh squeezed juices, coffee and perhaps a mimosa bar?
Decor: Fun mimosa garnishes and bright floral touches should do the trick.
Activities: Depending on budget, you can put together a nice swag bag for attendees. Branded koozies, totes, iPhone covers, t-shirts, hats and water bottles. We could even place your company logo on our cookies, cookie shots, cupcakes and brownies! 
3. Action-Packed Event
Are you considering live demonstrations of a product or service at your grand opening? Why not add some more with chef action stations?
Food: Strolling stations are perfect for live demos. They give everyone a feel for the excitement of this pivotal moment for your company. 
Try this Cheese Fondue Station, featuring Gruyère cheese fondue Alsatian wine, cayenne, nutmeg, cheddar ale fondue Newcastle brown ale and smoked cheddar. Accompaniments include French bread cubes, potatoes, steamed broccoli, Brussels sprouts and sautéed mushrooms. Yum!
Beverages: Soda, beer, cocktails, mocktails—the works!
Decor: Think Hollywood movie premiere and literally roll out the red carpet.
Activities: Why not add a little fun competition to your grand opening? Put together a scavenger hunt in your new facility—this will certainly get people excited to explore.
4. Celebrate the Season
Give your open house a theme that matches the current season. For example, if your celebration is in the summer, make it a sunshine-infused bash!
Food: Depending on the season your grand opening takes place in, here are a few different menus for you to choose from: 
Beverages: A spiked punch can go with any season! Ask us to help develop a custom punch for your event!
Activities and decor: Depending on the season, you can choose decor to match. For example, if your open house takes place during the holiday season, consider having a tree with ornaments featuring your company's logo. If you're planning a fall party, have Halloween candy for people to snack on while they learn things about your new offerings and products.
5. Keep it Local
Maybe you've been a business staple in Ann Arbor or a surrounding community for years or you are just starting out. Either way, this is a good time for you to partner up with your neighbors or support a non-profit to help build relationships and a positive business reputation. Additionally, partnering can also get your business in front of new prospective clients. 
Food: Provide food that uses locally sourced ingredients. Many of our menu items, for example, come from the Eastern Market in Detroit. Items like butter, olive oil and fresh vegetables can be sourced from nearby farms. 
Beverages: This would be a good opportunity to partner with a few of your favorite Ann Arbor breweries.
Decor: Partner with local artists to create the invitation and signage at the event! Make sure to display their pieces throughout your building.
Activities: Invite local bands to perform for a real Ann Arbor grand opening. Or if you've decided to partner with a local non-profit, have representatives from their organization present to provide information about their cause to your guests.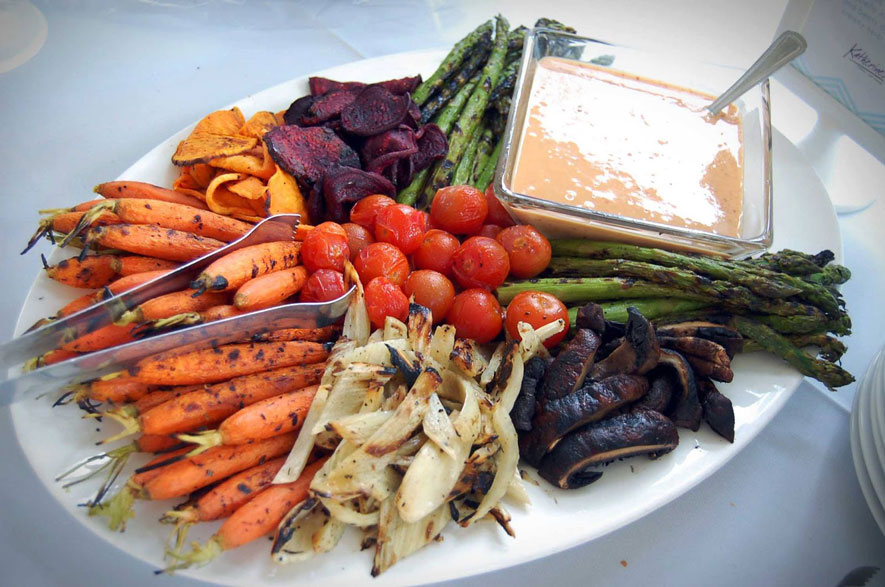 6. Block Party
When the weather is nice, there is nothing better than gathering with customers and neighboring businesses outside. What ever happened to the good old-fashioned block party?
Food: Keep it casual. Go with a tailgate or picnic! One of our favorites to recommend is Everyone's Favorites! Tailgate featuring:
Lemon Grass Beef Satays:

With teriyaki glaze

Cajun Bacon Wrapped Chicken

: Barbecue sauce

Basil Stuffed Redskin Potatoes

: Gruyère, sour cream and fresh basil

Lawash Roulade Assortment
Southwest Black Bean Cakes: Lime cilantro yogurt
Hummus and Veggie Platter: Olive oil, black pepper, carrots, celery, cucumber, cherry tomatoes, pita triangles and toasted pita chips
For more picnic menu options, view our Outdoor Events menu.
Beverages: Beer! Be sure to include choices like cider, lemonade or infused water as non-alcoholic options. 
Decor: The best time for block parties is certainly summer. Consider using a fun theme. Sports (we're looking at you, Michigan fans) always get people to join together. Choose items like goal posts, flags, jerseys, etc. that paint a picture of confidence, camaraderie and victory—and don't forget to brand them with your company's colors or logo! 
Activities: Share a funny video of your company that gives people a taste of your culture and what led to this grand moment. You could even host some short trivia with questions all about Ann Arbor and give away a few branded prizes.
7. Choose Your Own Adventure/Passport to Fun
Do you have a large building or a long, impressive company history? This is your chance to take your attendees through time! 
Food: Take people around the world and your business by having stations from around the world in various spots throughout your building. Here are just two of our favorite strolling stations to match your time traveler theme:
Central European Favorites
Kielbasa:

Sauerkraut and caraway mustard

Potato and Cheese Pierogi:

Sour cream, bacon and onion

Stuffed Cabbage Rolls

: Pork, beef, rice, spices and spicy sweet tomato sauce

Pickled Red Beets

: Bay leaf, peppercorns, Pimento cheese, rye bread and lawash crackers
Aegean Islands Station
Sliced Roasted Leg of Lamb:

Garlic sauce

Chicken Dijonnaise Kabobs

: Peppers and onion

Spanakopita:

Spinach, feta, lemon and phyllo

Hummus Platter:

Fresh and grilled pita
Beverages: It would be fun to feature a cocktail that was popular during a pivotal year in your company's history. 
Decor: Create a museum-style experience using cut-outs of famous figures and moments in your company's history, pictures and other visuals that tell a story.
Activities: Make someone on your team an honorary tour guide! Have them take attendees through small exhibits featuring historical facts or an interactive timeline that is spread across the facility in a video format.
8. Happy Hour
A happy hour gets everyone excited about what's to come after work. Treat your grand opening attendees to a happy hour with food and drinks served on high boy tables, making it easy for people to mix and mingle. 
Food: Bar food favorites, of course! Here are a few of our top recommendations from our cocktail party menu:
Antipasto Platter:

Salami, provolone, balsamic mushrooms, olive mix, roasted red peppers, marinated artichokes, pesto tortellini garnished with pepperoncini, sun-dried tomatoes, capers, fresh rosemary sprays and Parmesan basil crostini

Vegan Lawash Roulades:

Chipotle hummus, carrots, sun-dried tomatoes, cucumber, peppers, spinach, lawash

Sesame Chicken:

Wrapped in pea pods, ancho sesame sauce

Spinach Artichoke Dip:

Cream cheese, Parmesan, gorgonzola, spices, lemon, garlic, tortilla chips, herb grilled ciabatta squares

Maryland Crab Cakes

: Remoulade sauce

Turkey, Bacon and Gruyère Meatballs:

Mustard cream sauce
Beverages: Fun drinks or custom signature cocktails! 
Decor: It's happy hour after all, so the simpler the better. Add some fun votive centerpieces and maybe a few ribbons or nice tablecloths.
Activities: Trivia goes great with fun cocktails and bar food. 
Plan the grand opening people will remember
For over 30 years, we've aimed to provide creative catering options and dedicated service for corporate events across Ann Arbor, including grand openings. We can't wait to partner with you to create an imaginative custom menu, build the stage of your grand opening to match your vision or theme, coordinate fun activities for your guests and add those extra memorable elements. Your grand opening will resonate with your guests long after the event is over!
Planning a grand opening? We'd be happy to help. Reach out today!