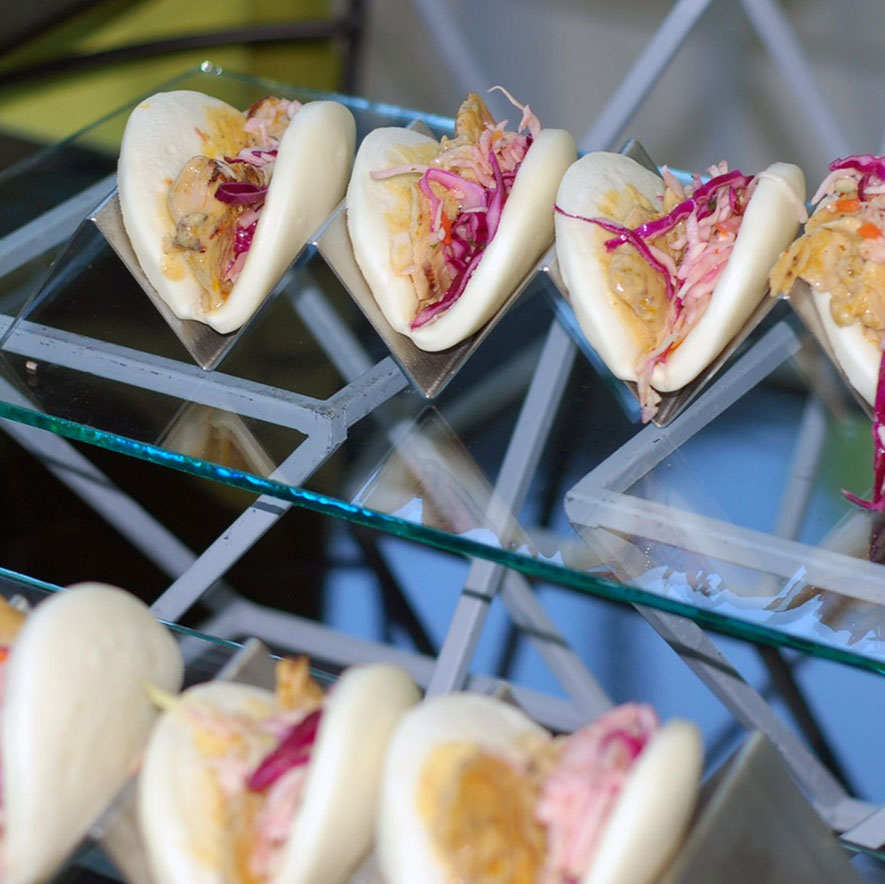 Sandwiches are a fantastic lunchtime staple, but there are so many different ways to approach catering for those important midday events. Maybe you're envisioning an Asian twist for your next luncheon, tropical delights for your beach-themed party or a healthy Mediterranean feast for that upcoming company retreat.
International cuisine allows us to really push the boundaries of what is possible for your guests. Not only does it give people the opportunity to try something new, but it offers new ways to elevate your overall presentation. We pride ourselves on our ability to provide outside-the-box lunch catering and exceptional service to clients across Ann Arbor.
We've created a menu with a variety of dishes that capture styles and flavors that go beyond standard lunch catering. Here are some ways you can customize a memorable worldly experience for your next Ann Arbor celebration or corporate event:
Offer a sensational Asian-style experience
Asian cuisine features so many interesting spices and bases to play with that would make for a stimulating lunch. From rice and noodles to meat and tofu, there are many creative ways to bring your event to life.
Try this fun Asian Sampler, featuring:
Grilled Asian Sesame Chicken Breast: soy, ginger and garlic
Korean BBQ Pork Kabobs: Bok choy and red onion
Wok Vegetable Sautee: Pea pods, carrots, water chestnuts, peppers, napa cabbage, fresh ginger
Steamed Basmati Rice
Sesame Noodle Salad: Angel hair, sesame seeds, scallion and pineapple topped with sesame soy vinaigrette

Give them a taste of Italy
There is something very comforting and inviting about Italian food. It stands as one of the most popular and replicated cuisines in the world. If you're looking to create an intimate experience full of hearty, delicious ingredients, an Italian-style feast is the way to go.
Treat your guests to the following mouthwatering options:
Grilled Flank Steak Platter: Grilled medium rare, served room temperature, grilled zucchini, cherry tomatoes, peperonata relish and grilled ciabatta squares
Almond Lemon Cod: Leeks, breadcrumbs and herb aioli
Feta Spinach Orzo Toss: Roasted tomatoes, oregano and garlic
Roasted Cauliflower: Prosciutto, parsley, pepper flakes and pine nuts
Big Italian Salad: Romaine, radicchio, celery, red onion, bell peppers, green olives, tomatoes, pepperoncini, shaved parmesan and red wine vinaigrette
Treat them to paradise
It doesn't have to be summer for you to provide your team with a lunch fit for an islander. Any time is a good time for beach vibes and tropical flavors. If you're looking to liven up your next work meeting with a sweet and zesty culinary experience, treat everyone to our Sultry Tropical Island offering:
Blackened Mahi Mahi: Margarita lime butter
Caribbean Pork Loin: Grilled pineapple and sautéed peppers
Southwest Black Bean Cakes: Salsa and lime cilantro yogurt
Jasmine Rice Pilaf: Coconut, lime and basil
Fire Roasted Vegetable Platter: Baby carrots, asparagus and grape tomatoes with portobello mushrooms, fennel, beets, sweet potatoes, chipotle vinaigrette

Go the healthy Mediterranean route
We get many requests for healthy lunch options and are happy to provide our guests with offerings that venture outside the common salad bar. The Mediterranean diet has been linked to various health benefits, which is why we made sure to create a menu item dedicated entirely to fresh Mediterranean flavors and ingredients. It features the following dishes:
Sliced Roasted Leg of Lamb: Allspice, cinnamon, garlic, anise, onion, garlic yogurt sauce and minted apple chutney
Lemon Piccata Whitefish: Diced tomato, capers, lemon, basil and white wine sauce
Quinoa Pilaf: Fresh herbs and brunoise vegetables
Grilled Vegetable Platter: Eggplant, portobello mushrooms, red onion, bell peppers, squash, green beans, carrots, asparagus and balsamic vinaigrette
Baby Kale Salad: Toasted almonds, radicchio, celery, dried cranberry and apricot vinaigrette
Here for all your lunch catering needs
For over 30 years, we've striven to offer some of the best lunch catering options in Ann Arbor. Not only can we provide the ideal menu for your lunch, but we can help you build the atmosphere around it, coordinate fun activities and add those extra elements that pay tribute to the various cultural cuisines everyone loves.
For even more around the world lunch ideas, explore our full Lunch & Dinner Menu. Have an upcoming lunch and want to do something different? We'd be happy to help. Reach out today!